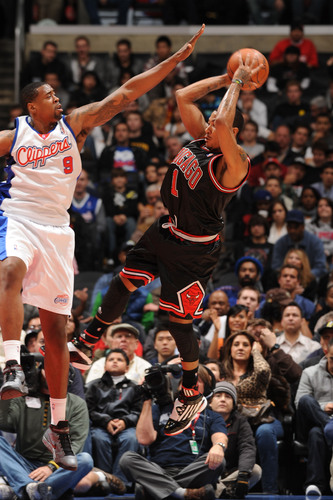 "They beat us last time and I wanted revenge. It was because of me that we lost because I missed a free throw and that really hurt me. If anything, it made me stronger as a player." –Derrick Rose
Well Derrick, you got your payback.
The Bulls went into Los Angeles and snapped the Clippers' nine game home winning streak.
Derrick Rose led the Bulls with 32 points and 11 assists on a ridiculous 11-18 shooting, not to mention four three pointers made. Carlos Boozer played better than his box score shows, and it's not a bad box score with 16 points and 10 rebounds on 50% shooting.
Luol Deng also had a fantastic game, chipping in 26. The Bulls' bench may not have had many high scorers, but their defense was stifling. When Blake Griffin left the floor in the second quarter, the Bulls' bench didn't let the Clippers have anything.
After having no answer for Blake in the first half and letting him get 25, the Bulls came out ready to stop Blake and held him to seven points in the second half on very poor shooting from the field, largely due to impressive defense from Taj Gibson.
This game was the start of a five game Western Conference swing. The Bulls return to action on Saturday night at 9:30 on WGN, ESPN 1000 and WGN America for all of us displaced Bulls fans.
No related posts.